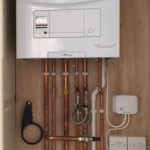 New Vaillant Ecotec Pro 28ERP Condensing Combination boiler installed in a three bed house in the Taunton area.
My customer requested replacing the conventional Ideal boiler from the kitchen area to make more room for a new future kitchen design.
It was suggested to install the new boiler in the airing cupboard with vertical flue, replacing the open vented hot water cylinder, no longer required by the home owner.