Recent plumbing maintenance jobs taken place around the Taunton, Somerset area.
General plumbing maintenance carried out in a local nursing home we cover,
including repair/replacement taps, wastes and W.C's, Includes new basin Salon bracket installed to replace existing faulty bracket.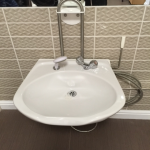 Vented and Unvented hot water cylinders serviced and maintained.
New Combination Cold inlet valve and expansion vessel re-charged to repair leaking hot water cylinder in Wellington, Somerset.